Applications
Data Center
Environmental control applications specific to datacom facility operational parameters.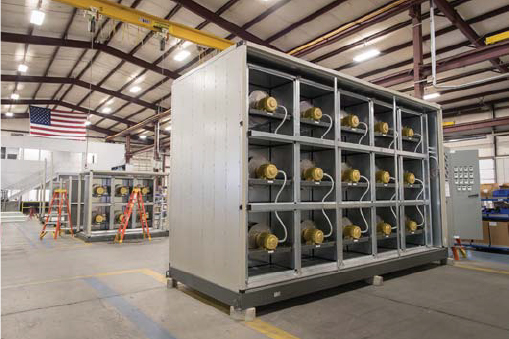 Equipment installations for datacom facility environmental control.
Environmental control equipment installed for the datacom facility typically serves mission-critical, 24/7 applications that require very specific operational parameters (temperature, humidity, cleanliness).
Datacom facilities are predominately occupied by computers, networking equipment, electronic equipment and peripherals.
Perhaps the most defining HVAC characteristic of data and communications equipment centers is the potential for exceptionally high sensible loads in the event of cooling system failure.
A significant challenge to the cooling system designer is the ability to expand or modify a system over time due to the ratio of life cycles between the datacom equipment (1-5 years) and the cooling system (10-25 years).  New and/or additional datacom equipment increases the kW per square foot, and additional cooling requires even more kW.
Understanding these parameters is critical to successful datacom facility design.
And Environmental Comfort understands these challenges better than most.  You see, our sister company, EC Power, has been providing power solutions to the datacom space for over 25 years — as long as we have been helping designers and installers provide efficient and reliable cooling systems.
Our Datacom systems solutions providers include:
YORK® scalable, flexible and dependability for mission critical data centers
Huntair / Eaton-Williams High Density Cooling
Huntair Modular Data Centers
AAON Evaporative Condensing Chillers
AAON Precision Control Rooftop Units
Nortec humidification and adiabatic cooling
FANWALL technology air handler retrofits
Stulz Precision, Retrofit and Adiabatic Systems
Rittal Corporation IT Liquid Cooling